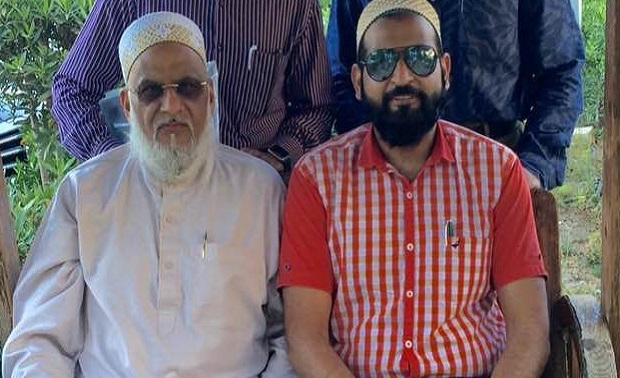 His inspiring journey demonstrates obedience to follow the father's feelings, make sincere efforts in business and the openness to talk about business findings for decision making. Mohammed Daudji applies learning and turns around the regular business of readymade garments into a unique popular brand.
(1) Education & Professional Jobs Ladder
Mohammed Daudji hailing from Galiakot, Rajasthan, India completed his schooling from Indian School, Kuwait. He was a topper in the 12th exam. He completed his Bachelor of Commerce from Symbiosis College, Pune University from Pune, Maharashtra in the year 2002. His father Sk. Zakiuddin Ali Hussain Daudji was having a trading business of readymade garments for ladies and children from 1985 onwards.
During his graduation, Mohammed took up a part-time job at "Herbal Life" dealing in health care products for one and a half years in Pune. Here he got exposure to the world of marketing, branding, gifts, and promotions.
For pursuing an MBA, he was selected for Cardiff University, UK, and came to Kuwait for 15 days before going to London. For doing masters it was preferred to gain some experience before joining the college, so he decided to give a helping hand to his father in his business. During this period his dad came up with the idea of a setting up super market and thus "Bestow Supermarket" was launched in March 2003. Mohammed took this up with full excitement.
(2) First Interaction with Business
Mohammed got fully involved in the setup of the Bestow supermarket. As there was compact space, he got into the action with a unique racking style and display of items. What he had learned in his last job about the importance of gifts, he introduced here and for each purchase, the customer would get a gift of some kind. Soon the new supermarket becomes very popular among the masses in the city and the MBA idea was put aside.
Mohammed made a fair analysis of the number of efforts, business income, profitability, and future growth scope. Coming to the conclusion that it was not in their business interest to take this forward and also his ambition and aspiration was in the garment business. He presented this to his father and his father considered and honored the business assessment of his son and hence in December 2003, they sold off the Bestow supermarket at a peak time at a good price.
His father now wanted to venture into the gold business. Mohammed respected his father's desire and agreed for the new venture. He suggested that as he had no experience in the gold line, he would first take a job in a gold shop and gain some experience. He took up a job as a salesman at a mere Kd 80 per month (USD 240/month) salary in January 2004. He even accepted the task to clean the floor and glasses of the shop.
Mohammed being a fast and keen learner, within just 3 months, learned what each items were called, how they were priced, and sold to customers. He soon realized the investment needed to offer a good variety to customers and the investment required to set up and run a gold shop was not practical.
During Burhanuddin Moula (RA) Kuwait safar in April 2004, he got the sharaf of Nikah at the hands of Burhanuddin Moula (RA).
Now they didn't know how to proceed in business, the father wanted to start a gold business and Mohammed wanted to join garments business! What will a mumin do, when he can't find a way and make a business decision?
They made an araz in Hazrat of Burhuddin Moula (RA) during Kuwait safar, and Burhanuddin Moula (RA) granted raza Mubarak to join father's business. He then quit his job in July 2004, joined his father's business. Then begins the journey of Business Transformation.
(3) Business Transition & Key Challenges
He has a few business challenges which he overcame with time. His first was that they had limited capital and for business expansion, they got an investor.
His second challenge was to establish a unique product line in this business of readymade garments business. He kept doing marketing research and finally narrowed down to the product line of baby garments and accessories.
His third challenge was to grow and have a reasonable clientele. He reached out to his customer with better customer services. He took the necessary steps in this direction like listening to their concerns, complaints, feedback, and addressing it with the right solutions.
His fourth challenge was the sourcing of goods & procurement. He established relations with overseas suppliers and paid first visit to China in 2005. He believes the "Right Purchase is Half Sold already". He applied his own creativity and gave the product design a key push, thus creating unique products to satisfy the local market. After his market study, he saw the vacuum and filled that gap.
His fifth challenge was the back-office administration, systems automation with computerization. He trained his staff to handle all these and daily system report of key business performance was established.
His sixth challenge was logistics and warehouse as with an increase in quantity, the dynamics of the business changed. With the help of technology, centralized storage & delivery of goods, he optimized the storage, procurement & sales.
(4) Current Business Operations
Currently, they are in the business of infant garments and accessories at Mini King and brand name "Zaki".
They have a staff of about 50+, one-floor head office and 3 retail showrooms. Sk. Mohammed Daudji handles procurement and imports and works along with his father Sk. Zakiuddin and his brother in law Sk. Mustafa who handles Sales, HR, legal, and customer care. His younger brother Huzefa handles IT & retails operations.
He feels that the actual process of graduation, going out for higher studies, meeting new people, gaining exposure, and learning has helped him apply those learning and methods in Kuwait, enabling the success of his current business.
(5) Business Satisfaction & Future Growth Plans
Working in the family business for the last 16 years and at the age of 41, he feels glad having joined the family business. He realizes that the learnings he got from his father were immense, he could avoid doing too many mistakes, and the good guidance he got helped shorten the learning curve. He is proud and happy that he could contribute to bring back the troubled family business back on track and grow it.
In the future, Sk. Mohammed plans to grow the business with more retail outlets, broaden procurements range with import from more countries adding to quality and variety of goods. To strength cash flow, he wants to expand the range of products being offered to customers. They also look forward to expanding to more countries.
Sk Mohammed Daudji quotes :
"Waiting for Perfect is Never as Smart as Making Progress"
He advises other professionals and businesses :
Your first product is never your final product, improvement cycle is the Key therefore consistency in progression will get you out of recession.

Sk Mohammed Daudji can be contacted on :

Email: [email protected]
Instagram
All readers please share your comments/feedback from this journey and any lesson learned to implement in your life.