YourBizzJourney.com was founded with Raza and Dua Mubarak of our Aqa Moula Aali Qadr Syedna Muffaddal Saifuddin (tus) and launched on Thursday, 4th Zilhaj 1436, 17 Sept 2015.
Your Bizz Journey – "The Business Transition & Transformation Publication" is a publishing Platform for the Business Journey of  Dawoodi Bohra professionals, who being qualified have moved to the Traditional, Family, Agro, Manufacturing, Specialized and Tech Business; either from professional jobs or by making the right decision from the beginning of their careers.
YourBizzJourney also publishes various business articles and related resources contributed by domain experts to grow in the current business and enable expansion & diversification of businesses with innovation and adaption of technology.
"YourBizzJourney Academy" evaluates and engages in Promoting Skill Development Training of selected trainers and business coaches whose courses, seminars and workshops enable Business Transition and Transformation.
The Journeys should give other professionals a reflection to :
Inspire
Motivate
Adopt
Replicate
Bayan of our Moula Syedna Mohammed Burhanuddin  (RA) and now of Syedna Aali Qadr Mufaddal Saifuddin Moula (tus) regarding business :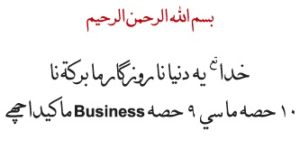 "Vypaar No Paar Nahi"
"Become Business Minded, NOT Service Minded"
Our Readers who will Benefit
Family Business Owners – Business owners of family business in various segments who wants either their qualified children, relatives or other professionals to join them. On many occasion they are unable to find a right matching point.
Qualified Professionals – Large numbers of professionals who for one or other reason have been unable to join their established family business or join any traditional business and still working in jobs; either by their own choice and under compulsion of circumstances. If you intent to get into business someday and don't know how that will ever work out, learn from these journeys.
Established Business Houses – Various businessmen who want to modernize their age old business setups as per the latest trends of the modern day environment and technology for effective running, managing and growing business by being competative. If you are scouting for right talent among mumineen to partner with; this will be place to visit regularly.
New Business Owners – New business owners who wish to learn from challenges and solutions applied in these journeys and apply them to stabilize their current business. They would like to read from the traits of various journeys of professionals to business and how they applied the success methods.
Students – All student going to secondary onwards classes to schools, college and university, be it on premises or distant learning. To do your career planning keeping these reflections in mind from the bizz jounreys.
Parents – Parents of children who are studying and who have dreams and hopes of what their children should become in life. The role parents play in framing the mind sets of children towards education and business life.
Teachers – All teaching staff who play a key role in shaping the young minds; so that they can quote examples from these journeys and inject the business mindset in budding children.