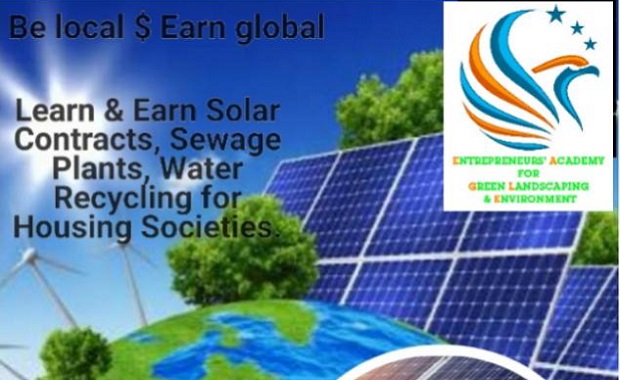 1. EAGLE IS A VIRTUAL BORDERLESS ACADEMY FOR TRAINING ENTREPRENUERS THROUGH ONLINE SESSIONS IN ORDER TO PROMOTE GREEN TECHNOLOGIES)
2. The academy is a Training Arm of SMB Environmental Projects Pvt Ltd which has its core competence in designing and implementation of Eco-Friendly projects, like Solar Electricity units, Air & Water Pollution Control Systems, Sewage Treatment Plants, Water Recycling and Renewable Energy.
3. Budding Entrepreneurs, with minimum qualifications like intermediate in any subject, preferably below 35 years of age, , wishing to make a career in Eco-Friendly Related Projects are invited to join this academy.
4. Only those who are seriously interested in making a career as Entrepreneurs in the Environmental Related projects, contracts, assignments etc should apply.
5. Selected candidates shall be invited to join the academy after signing Academy's prescribed Agreement Form which will inter – alia include Confidentiality and Non Disclosure clauses, along with other terms & conditions.
6. The candidates shall be given online training to develop their entrepreneurship skills of marketing, liaison and co-ordination for above-mentioned projects, in residential, commercial and industrial sectors.
7. After completion of on-line / on the job training, for a minimum period of 6 months, the selected candidates shall be awarded a certificate of participation
8. The candidates then would be given an option to join the marketing team of SMBEPPL, as company's Channel Partners. This exclusive agreement inter-alia shall cover the compensation and incentives towards their efforts in achieving company's goals and sales targets.
10. All appointed Channel Partners shall be expected to work from Home or from their existing workplaces and shall be connected with the management through the virtual platforms only.
11. Interested may contact by whatsapp on any of these numbers for an EOI ( Expression of Interest) form: +91 9765785253, 7738365151, 8851545422 or send an email to [email protected]
15. The EOI form can also be downloaded from this link
https://forms.gle/EsN9sc87JNb4xjmA7