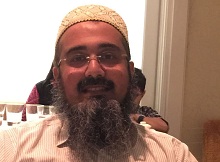 Dr Sk Ammar Adamjee, Master in Science- Material Science and PhD in Material Science after 10 years of job as research scientist and marketing development manager starts his own business in Australia. His adoptable and replicable journey demonstrates being attached to core values inspite of being highly educated, expanding our skills sets and being courageous to explore new business venues.
His father Sk. Shamoon Adamjee used to work as accountant in Nairobi, Kenya. He did his primary, secondary and A-level in Nairobi, Kenya. For higher education, he went to London and completed his masters in engineering – material science from Shellfield University, UK in 1993.
He graduated with distinction and was awarded scholarship by the same university and completed his PhD and was awarded doctorate in Material Science and Vacuum in 1996.
While looking out for work, he was presenting at a conference about his research works and the technology. While doing his PhD he had received and acquired many patents for his work. In this conference, he met a British entrepreneur from the Isle of Man. This is an island having a population of about 72,000, having its own government but part of UK.
He was offered work as research scientist in Wet Cover Ltd. for anti-reflection coating research work and design the new machines. The knowledge he acquired in university was applied here.
He timely got married in 1998 and by 1999 his work progressed from research, design to production and the product was ready, which were anti-glare computer screens. Now he was also helping the manufacturer in sales .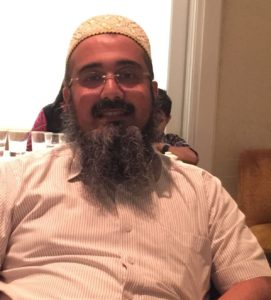 It was difficult for a research scientist to engage in selling and marketing activities. To acquire this new set of selling skills he took a few online courses, attended few sales workshops. He would also accompany the owner of the company in trade shows and exhibitions and hone his sales & marketing skills. He was then promoted from research scientist to the Director of the company.
Toward the end of 2001, they were expecting their first child and he got concerned and worried that what will happen to the deeni education of the child as they were only 2 mumins in the whole island.
When intentions are good, help comes from somewhere! He found the solution when towards beginning of 2002, he was head hunted by one of the leading company, BOC Edwards who were leaders in vacuum pumps business with a size of 4300 worldwide and were part of BOC Gas (British Oxygen Gas). They had their setup in central London, which was close to our masjid.
He joined them as marketing development manager and moved out to London. Early in 2005, a German company acquired BOC Gas and wanted to sell off the BOC vacuum business line. Hence the company had offered volunteer layoff scheme along with a special financial package. Besides, his Australian 5 year PR (permanent residence) which he obtained in 2000 was due to expire and now he was at the cross roads of his life!
During that time Aqa Moula Syedna Mohammed Burhanuddin (RA) was in London for the nikah of Alanwar bs bin Shz Idris bhaisaheb. Sk Ammar bhai made a araz about the situation and sought raza to relocate to Australia. He was granted Raza Mubarak "Business ni raza che for Australia otherwise England ma rejoo", meaning that Raza for doing business in Australia otherwise stay in England.
He submitted the volunteering resignation into the company immediately. He received the redundancy package, which served as a capital (CAPEX) for starting his business in Australia.
He arrived in Melbourne, Australia in August 2005. From the onset, his firm neeyat was to do business only, as he had the required capital, a business line. But he was unaware of the Australia market and what products would run here. Hence he took up a job with one of the Edwards distributor in sales & marketing.
After a year by Jan 2007, he launched "Ezzi Vision Pty Ltd" in Melbourne capital city of Victoria state. It would deal in thin film coating spectacle lenses and sell thermal lenses coating machines.
In 2010 he was contacted by Edwards Vacuum, head office as he had worked with them before and was appointed distributor for 2 states of Australia Victoria and New South Wales, whose capital city is Sydney. 50% of Australia population lives in these 2 states. This is when he hired his first employee.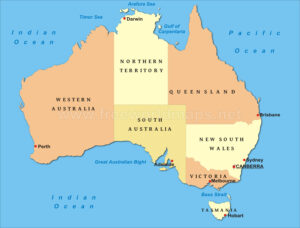 Now he had to change the customer base with the offerings of new product range and starting dealing with university, research laboratories and research organizations. Few more manufacturers also started approaching him since he had established the required setup in these 4 years.
Now he is the Managing Director (MD) and overall responsible for the business. He is opening new setup with branding as "Ezzi Vacuum Pty Ltd" in line with his product range. His now deals in vacuum range of products like pumps and gauges along with the vision products. They do equipment sales, service & maintenance and consumable supplies.
Having getting past the challenges of capital, market awareness and product line, his 4th challenge was the man power. For first 3 years he ran the whole show alone. He hired his 1st and 2nd employee in 2010 & 2013. Hiring is expensive in Australia and retaining trained staff is difficult. Also his father had joined in during early years and helped him managed the books.
Now he had sub-contracted the book keeping and accounting so that he can focus on the core business activities. He has subscribed on online accounting solutions to manage his accounting, sales, marketing and service operations.
In 2013, he opened his second branch in Sydney in New South Wales. Now they are in all 4 people and having 2 branches. He says he is well aligned with knowledge and experience to compliment his business.
After 9 years, he is highly satisfied following Aqa Moula (tus) guidelines and says ghane barakat che. He says he is blessed and says "without Aqa Moula (tus) Dua and Raza Mubarak, we can't get anywhere". He admits that there are up and downs in business, but you get out it with courage and patience and find a solution. He gets to attend the miqaats with Aqa Moula (tus). He enjoys being your own boss in the business.
For future, he is working to setup second business line of Honey. Heard Shz. Qusai bhaisaheb mention about practice of some businessman in Kuwait bilad in Gulf countries, who help and prepare other mumineen setup and establish their own business.
Hence inspired by this, he has also done azam to help mumineen switch to business and help them establish it. With this neeyat, he wants to expand in to honey business.
With this intention he bought at home 1 hive a year ago and which has now grown to 5 hives now. He is looking for mumineen who can help in extracting; packaging and distribution of honey either locally or internationally. He wants to have office in each state of Australia.
He says it's the best time for those with talents to move to Australia as there are plenty of opportunities here.
Dr. Sk. Ammar Adamjee quotes :
"Don't leave it for too long in a job, just get into business as soon as possible."

"There is help available, business advice available! Take the right advice and move forward."