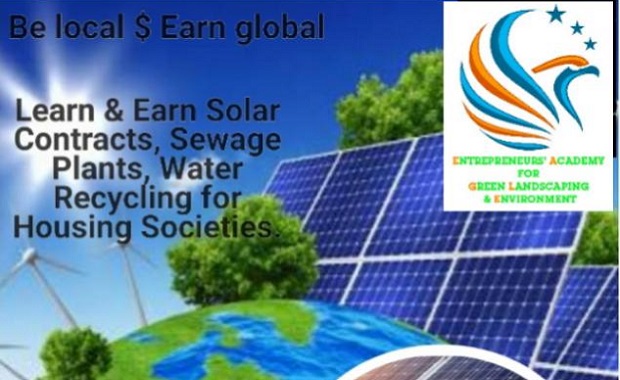 We are pleased to introduce our EAGLE On-Line Training- cum Business Development program is scheduled to commence from June 12, 2020 Program. The last date for making the payment is June 7, 2020.
EAGLE IS A VIRTUAL BORDERLESS ACADEMY FOR TRAINING ENTREPRENEURS THROUGH ONLINE SESSIONS IN ORDER TO PROMOTE GREEN TECHNOLOGIES.
The academy is a Training Arm of SMB Environmental Projects Pvt Ltd which has its core competence in designing and implementation of Eco-Friendly projects, like Solar Electricity units, Air & Water Pollution Control Systems, Sewage Treatment Plants, Water Recycling and Renewable Energy.
We also hope that you have read the terms and conditions of this program and by filling up our T & C form, you accept the same. If not, please write to us on [email protected] or whataspp : +91 9765785253

Broadly, a 3 months – 6 month – intermittent On-Line training Module will train you to learn following 10 crucial and practical Points including site visits :

1. Basics of Solar Contracts, Water Recycling, Sewage Treatment Plant and other renewable energy resources as current most promising business segment
2. How to enter in this line of business
3. How to generate inquiries and pitch your business
4. How to develop quotations for the clients
5. How to negotiate and crack the deals
6. How to plan and execute the jobs
7. How to source the materials at most economic prices
8. How to supervise erection and commissioning
9. How to close the deal after completion
10. How to monitor the performances of such units.

You can contact below for more details, payments etc and send your payments details.

Contact :
Sk. Burhanuddin Taskeen – CEO & Chief Mentor – EAGLE
[email protected]
whataspp : +91 9765785253