GROW your own business
LAND a job or PROMOTION in this hot digital marketing industry
HELP a client increase their business
1 Month Digital Marketing Basic ONLINE | INTERACTIVE | MENTOR LEAD Course
ENROLL NOW FOR INR 999/- ONLY on
http://tiny.cc/k371vy
With Raza and Dua Mubarak of Aqa Moula (tus), Hashim Adil is launching Online LIVE Mentor Lead Interactive Program.
Designed for all who want to START | GROW | LAUNCH BUSINESS or CAREER or change in field or career and don't know where to get started.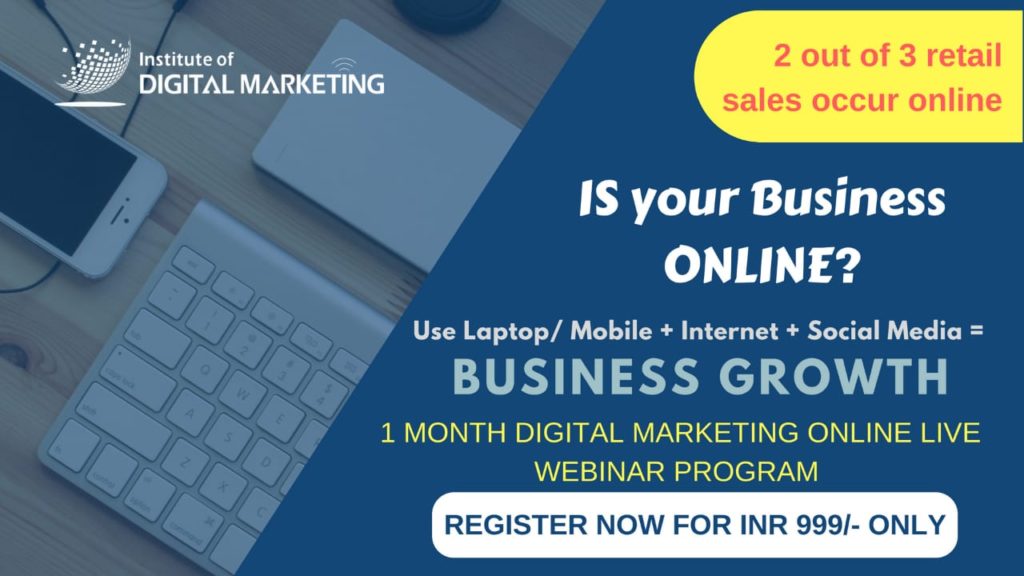 This program features some of the experts with Real Results in their Business
Mr. Yogi Udgire – Digital Marketing Strategist
Mr. Murtaza Tara from Munineen Expo – Story on how they got 40,000 Followers on Instagram and used technology to scale up their business.
Mr. Burhanuddin Taskeen – Using Digital tools for Purchase/Procurement Management.
Mr. Hashim Q Adil – Business Growth Expert. – Member American Union of NLP.
And many more such experiences……
What Will You Learn…
GROW your Business from scratch
Upgrade your digital marketing skills for a Career GROWTH or Change
Social Media Marketing
Search Engine Optimization
Email Marketing & Automation
Google Analytics
Maximise Linkedin for Sales and Career
What will You GET…
The Essential Checklist for Social Media Branding
Linkedin Profile Checklist
The Small Business Marketing Checklist
E-Book – 31 Best Ways to Market Your Business
Video Recording of Each Session.
And Much More…
Time & Schedule for Batches: You can select from any one of these 3 slots  :
08:00 AM – 09:00 AM IST
09:00 AM – 10:00 AM IST
08:00 PM – 09:00 PM IST
Thursdays & Sundays will be OFF!
All of these for INR 999/- ONLY! It's Unbelievable, but it's TRUE!
Limited Time OFFER!
What are you waiting for? HURRY… Go GRAB YOUR SEAT NOW! ONLY limited SEATS for Classroom!
Share with your family and friends! They will thank you later for this beneficial course.